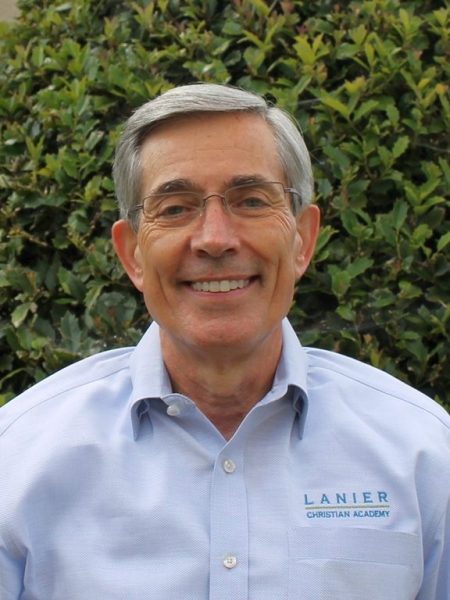 Al Gainey is a native South Carolinian who has lived in metro Atlanta since 1989. A former banker for 21 years, a business owner for 20 years, and the President of Lanier Christian Academy since its inception four years ago, he understands clearly what it means to employ business principles when starting or operating a Christian school.
Having been on Christian school boards for over 25 years and a parent whose children attended a Christian school and college, Gainey is well suited to share his experiences, advice, and wisdom to other Christian schools who need help at most every level.
He is the visionary who brought together two Christian schools in September 2015. One school was a University Model School, primarily homeschool families, and a Traditional model school. There are two very diverse cultures represented and both schools were struggling in different ways. The school still maintains both models and today the combined school has over 400 students, has sustainability, and the cultures are now blending very well.
Gainey has a strong marketing background and has used his corporate and business acumen to determine best practices from both schools as a starting point to grow the new school. Branding the new school was a challenge and he knows how to stress consistency in a marketing plan. He is very attuned to the need for a strong public relations and communication approach to managing a non-profit organization.
his 45 year career, his employers have all agreed that he is able to go into situations that need improvement, opening offices de novo, and has always completed each challenge by improving the performance of the operations. He is a problem solver. Gainey is very adept at strengthening the financial position of the organizations he has assisted or managed
.Christian education and transforming the next generation of leaders is Gainey's passion. Discipling young people to disciple others is important to him. He grew up in the Lutheran Church in the 1950's and 1960's, been a member of the Presbyterian Church in America (PCA), and for the past 12 years has been active in a local Baptist church.
He has been married to Ann Beckham Gainey for 48 years. They have two children and two grandchildren. Gainey currently is beginning his transition to pursue his vision to assist other Christian schools around the country to become the schools God desires for them to be; Kingdom education schools, giving all the glory to our Lord and Savior, Jesus Christ.