Senior Consultant — Vision Planning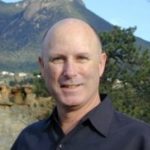 During his formative years, Ray Webb received notoriety as a classical musician with the San Francisco Symphony, the San Francisco Ballet, and the San Francisco Opera Orchestra. As a jazz musician, he could be heard on KCBS radio every Friday night. 
In the early 1990s, Ray was called into full-time ministry. He began working in the field of church growth in 1991 and served for some time as Pastor of Worship and Prayer at the World Prayer Center in Colorado Springs. Since beginning in ministry he has never turned back from serving local congregations, denominational bodies, ministry associations, and support ministries worldwide. 
Today, Ray serves as an ordained pastor. His devotion to powerfully advancing the kingdom of God led him to found VisionPlanning in 1999. In addition to being Founder and President of VisionPlanning, Ray is the President of Christian Advancement Network and ImpactKidz International, as well as the Founder of Front Line Worship Mission, a ministry that trains and sends "musicianaries" on short and long-term mission.
Ray is the author of more than 1,200 pages of materials aimed at fulfilling the Great Commission during our lifetime through increasing the effectiveness of every evangelical ministry expression within the Body of Christ.