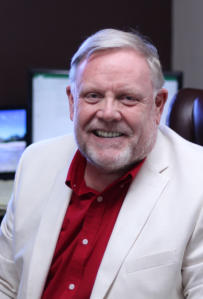 Dan is the founder and President of GraceWorks Ministries, a non-profit ministry he founded in 2000. With a current staff of 12, GraceWorks provides holistic solutions for healthy Christian schools, in order to raise up the next generation of outstanding Christian leaders.
Dan jokes at his first job — ever — was working at a Christian school: Grace Lutheran, where he served as an assistant janitor at age 14. Professionally, Krause's work for nonprofits his entire life, from 1983. As a fund development professional, Krause raised over $20 million in 15 years full-time experience as line staff, volunteer, head of department, or consultant.
An experienced writer and trainer, Krause co-authored the 625-page Marketing Christian Schools: the Definitive Guide in 2006, which is used by over 2000 Christian schools. He has developed three seminars for Christian school finance, fund raising, and marketing, which have been given nearly 300 times. Krause authored a 65 — page monograph, Succeeding at Major Gifts. In addition, Krause pioneered a marketing enrollment system coaching program used by over 200 clients in the last 4 years, and has written over 1500 pages of materials related to Christian school marketing. He typically provides coaching and consultation for Christian schools 25-30 hours per week, and traveled 31 times to individual Christian schools in 2012.
As a researcher, Krause developed both the Parent Satisfaction Referral Survey as well as the Differential Diagnostic report, which together have been taken by over 100,000 Christian school constituents in over 500 Christian schools throughout North America. He has conducted regional Christian school work as well, and studied research and statistics at a Ph. D. level for one year at the University of Colorado. Krause has personally interpreted the results for over 350 of these surveys to Principals, boards, and staff.
Krause has spoken at a variety of national and regional conferences, including the NCEA, LC-MS, WELS, ELCA, ACSI, NAUMS, NSFRE, and William Carey University.
An innovator and developer, Krause spearheaded the effort to provide a nationally recognized multimedia public relations training kit (Tell it!) used by hundreds of churches and schools. As a Vice President of Education for the Los Angeles Chapter of NSFRE (now AFP), Krause developed the first regional seminar specifically targeting minority fundraisers, with standing-room only attendance, and supervised two other regional seminars.
To accomplish his relational goals for fundraising, Krause co-developed Graceful Giving for Goldmine, a fundraising management companion program for Goldmine for Windows. In addition, Krause developed the Personalizer, an Excel-based program which increases direct mail results by 25-50% through highly relational, in-depth personalization. Krause has personally supervised all four versions of the Parent Satisfaction and Referral Survey; some of his programming is still used to generate final reports.
Krause has an abiding passion for missions. In addition to being a graduate of Fuller Seminary's School of World Missions (now School of Intercultural Studies), Krause worked at several mission agencies, including New Hope International, The Mustard Seed (then Pasadena), and the International Headquarters of the AD 2000 and Beyond Movement. Krause has worked in non-profit ministries his entire career, after graduating from Concordia Teachers College (now University) summa cum laude in 1983 (Liberal Arts).