Senior Consultant — Technology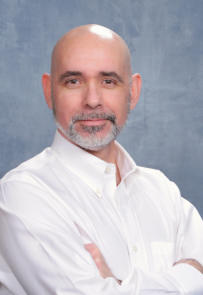 Albert was born in New York to a loving Christian family of Cuban immigrants who were looking for a better life. While he was still very young, Albert's family chose to move to South Florida. Growing up there, the emphasis was on family, faith and hard work. While he began his college education in Florida, he later continued it in Georgia, where he also joined the Army National Guard. Then, in 1990, he moved to California, where he attended Mt. San Antonio College and Cal Poly, Pomona while completing his National Guard service.
The 90s marked the dawn of computer networking. Albert was an engineering student, working his way through school. His first step into his intended industry was as a computer-aided drafter. Within a year, recognizing his talent with computers, his employers moved him into the IT department, where he promptly took on the IT Manager role. Leading that department, he was soon managing 5 networks, in 11 offices, across 7 states. This position required him to evaluate new technologies, including the early precursors to CRM. His research led him to selecting GoldMine for his company.
In 1996 Albert went on to start his own company, providing networking services, web development and application training. Naturally, he chose to use GoldMine for his business and was so happy with the results that he recommended it to all his customers. By 1997 his company became Official Authorized GoldMine resellers, which meant certifying all their technicians and trainers in all aspects of GoldMine CRM. In subsequent years, GoldMine became Albert's specialty, working with both corporate and not-for-profit customers. In 2014, he and his team partnered with Christian Consulting, assisting them with their GoldMine template for Admissions. In 2015, he was approached to take over the development, resale and support of both AdmitGold & DonorGold systems, which have both been very successful. In 2016, he partnered with Whittier Christian High School to develop AdmitGold K-12, which led to him to his next successful partnership with GraceWorks Ministries, propelling AdmitGold beyond a software solution into a full and complete system for K-12 Christian Admissions.
Having a career that weaves together the tradition of family, faith and hard work makes getting up each day rewarding for Albert. He looks forward to continuing to support the Christian educational community for many years to come. When not busy finding solutions for his clients, he enjoys spending time with his wife and their triplets. The family is active at Inland Hills Church in Chino Hills where his daughters serve in youth leadership and his son sings in the children's worship team.